ULTIMATE List of EASY Savings Challenges That Will Help You Save THOUSANDS [FREE PRINTABLE]
52-Week Savings Challenge
Handy 52-week money-saving challenge printable. This useful finance printable will help you to gradually increase your savings over a 52 week period (1 year). Use this tracker and save $1,378 in one year! – Saving over $1,300 in a year may sound really hard, especially if you aren't used to saving money.
The 52-Week Savings Challenge helps you to gradually save up money. In the first week, you are only saving $1! Yep, that's right, only $1! I know you can hit that goal! The following week you save $2, the week after $3, halfway through the year you are saving $26 that week until you get to the last week of the year and save $52. At the end, you will have saved $1,378!! 
$1,000 In 30 Days Challenge
Saving $1,000 in 30 days is not for the faint of heart but it's an awesome challenge if you are!
Everyday color in an icon and transfer that amount to your savings. At the end of the 30 days, you will have saved $1,000! (This can also be used for debt payoff as well!)
The best part about this challenge is the savings don't have to go in order. If you have a day where you made a lot in tips or got a bonus at work you can tackle one of the higher savings days, and if you had a low day you can save as little as $5.
$5 Dollar Savings Challenge
Handy Save $5 saving challenge printable. This useful finance printable will help you to gradually save $500 by saving every $5 bill you receive!
Saving over $500 may sound really hard, especially if you aren't used to saving money. The $5 Bill Savings Challenge helps you to gradually save up the money to reach your goal of $500.
Save What You Spend Challenge
The Save What You Spend Savings Challenge not only helps you to save money but also stay accountable to your spending habits. 
Here's how it works: choose a spending category like eating out, personal spending money or clothing. 
Then every time that you spend from that category you have to transfer the SAME amount to savings. For example, if you spend $11 on lunch with your coworkers then you also transfer $11 to your savings. If you can't afford the $22 for lunch, then you don't spend it! 
One Month Ahead Savings Challenge
Saving one month of expenses may sound really hard, especially if you aren't used to saving money… but it doesn't have to be!
Use this easy printable to get One Month Ahead on your bills. Simply calculate your total monthly expenses, then divide that number by 30. Color in a calendar every time you save that amount. 
Once all the calendars are all colored in you will have saved one month's worth of expenses and be one month ahead on your bills!
Wednesday Weather Challenge
The Wednesday Weather Challenge is a great way to randomize your savings. Each Wednesday transfer the temperature outside to your savings. Example: If it's 53 degrees transfer $53.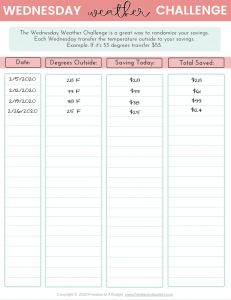 Track Every Penny Challenge
Tracking every penny that you spend can sound really daunting but trust me, once you get into the habit it is second nature and really doesn't take that long.
Every 2-3 days log into your bank accounts to access your statements, spend 5-10 minutes, and record every single expense into your budget. Here is the budget template that I use and what helped me pay off all my debt, cash flow my wedding, and buy my first house. Here are some tips on setting up your first budget.
Don't Break The Chain Savings Challenge Printable
Let's take 'Don't Break The Chain' up a level! Each day that you complete a habit/task mark an "X" in the corresponding date box. The goal is to not break the chain. If you don't complete the month without breaking the chain then transfer the designated amount to your savings account.
Homebrew Coffee Challenge
With the Homebrew Coffee Challenge, color in a mug every time you brew your own coffee at home. At the end of the month transfer $5 per cup to your savings or debt payoff!
Food is the third-highest item in the average person's budget, right below housing and transportation. Saving money on groceries is a really hard task for many but I've mastered the art of cutting out a little bit here and there to make a BIG difference in your budget. Check out my course on How To Save Money on Groceries here.
I bet if you really tried, you could skip going to the grocery store this week and find enough food to feed your family in your pantry, fridge, and freezer. When you are trying to cut your grocery budget for the month, challenge yourself to eat strictly from home.
Every week that you succeed color in a jar! After 4 jars are colored in, reward yourself! The reward could be a pizza night, a manicure, or simply a movie night at home!
You Have Food At Home Printable
Who would've thought having the "you have food at home" talk with yourself would be so difficult as an adult?! Let's make it a challenge! Every day that you don't eat out at all: color in a jar. Once you've colored in 7 jars then you can reward yourself or your family! The reward could be a pizza night, a manicure or simply a movie night at home!
Here at Freedom In A Budget, I am all about saving money! Here are some of the EASY ways that I save money:
• CIT Bank offers high interest savings accounts and CDs to provide a safe, secure way to earn money grow your savings.
• Fetch Rewards is a free grocery savings app that rewards you just for snapping pictures of your receipts. That's really it. Free gift cards on groceries on thousands of products every day, no matter where you get your groceries. Just scan your receipts and get gift cards from places like Starbucks, Target, Ulta, Applebees. Use code QHKBH to earn 2,000 points ($2)!
• Rakuten/Ebates: Rakuten is my to go way to earn Cash Back from over 2,500 stores like Macy's, Amazon, Sephora, Walmart and much more. Join Rakuten today for free, and you'll get a $10 Cash Bonus to get you started! Every three months, you'll get a Big Fat Check in the mail or a PayPal payment just for shopping. 
• M1 Finance is an easy to use brokerage platform that allows you to invest in Fractional Shares and auto reinvest!
• Budget Templates: Excel budget templates with pre-populated categories and formulas to keep you on track with hitting your financial goals.
---
  Some of the links in this article are "affiliate links", a link with a special tracking code. This means if you click on an affiliate link and purchase the item, we will receive an affiliate commission. The price of the item is the same whether it is an affiliate link or not. Regardless, we only recommend products or services we believe will add value to our readers. By using the affiliate links, you are helping support our Website, and we genuinely appreciate your support.
---