How To Kick Start Your Debt Free Journey – You CAN Pay Off Debt!
Just three short years ago I paid off $23,000 worth of student loan debt. Some days that feels like 5 minutes ago and other days it feels like it was a lifetime ago. My life has changed so much in that time. It is truly amazing what life can look like after debt.
The freedom that you have is unexplainable, the weight lifted off your shoulders, the sleepless nights are gone. I used to be scared every time there was a knock at the door or a call from an unknown number. That's how deep in debt and default I was.
Today, I'm going to share the top 5 tips that I wish someone shared with me when I hit rock bottom and finally decided to take my life back and start my debt free journey. I'm going to share what, what not to do (what *I* did wrong) and give you some free resources as well, including a video I made that goes into even more detail!
List all of your debts.
Take out a pen and paper or spreadsheet and list all of your debts. This can be scary but it is so important. You need to know upfront what you are working with. I recommend using the free site, Credit Sesame, they will provide you with your credit score as well as list all of your debts for you.
For each debt you will want to list the following items:
-Total debt amount
-Minimum payment
-Due date for payment
-Interest rate
If you are going to do the debt snowball the interest rate is not needed but if you do the debt avalanche it is. Here is a video where I breakdown The Debt Snowball vs The Debt Avalanche so that you can make the best decision for you and your family.
Create a budget.
Of course I am going to say that you need a budget! My NAME is Freedom In A Budget! But honestly guys, budgets do NOT have to be contracting, they are simply being aware of your money in and your money out and coming up with a game plan for your money.
I think back to the years before I started keeping a monthly budget and I had no clue where my money was going, but then once I started tracking all of my purchases it was amazing how easy it was to see where I needed to make a change.
If you don't already have a budget, there are so many different types, you can use excel like I do, a pen and paper budget or even a budgeting app. I have my excel budget templates on SALE right now if you want to use the same budget that I do.
If you are struggling with what to put in your budget or how much to put in each category like groceries, eating out, gas.
I recommend doing a Spending Analysis, what that will do is help you to break down all the categories for the last 3-6 months of bank statements. Of course, I have a video on How to do a Spending Analysis as well.
Writing down your bills is not a budget. Let me say that again for the people in the back, just writing down your bills is NOT a budget.
You need to be tracking your income, all of your bills AND all of your transactions. Finalizing your budget at the end of the month is the MOST important part of budgeting in my opinion.
That is when you are able to take a step back, see how the month went, what you can change for the next month and see how much money you have remaining (we will get to this part in Number 4) or how much in the red you are.
Please don't get discouraged if your first few months of budgeting don't go as planned. Studies have shown that it takes about 3-6 months of budgeting to get the hang of it.
There will be times where your spouse went WAY over their personal money or you had an unexpected dinner with friends or that you budgeted HALF as much for a category as you should've. Hopefully the spending analysis will help with some of that.
But PLEASE, don't be discouraged if the first few months don't go as planned!
Check your credit score.
I recommend checking your credit score once a quarter. As you pay off debt and work on improving your credit score it is fun to see the number go up. It is also important to see if there are any errors on your report, if there are a free credit check from Credit Sesame will make you aware so that you can address them asap.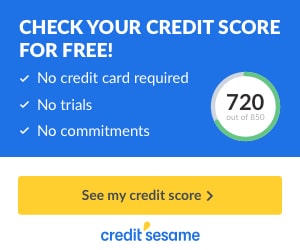 Find ways to put extra towards your debt.
Find ways to put extra towards your debt. The new year is here, go through your house and declutter. Rather than just throwing them away or donating them find a way to sell them for some extra cash. I have a whole playlist of videos with side hustle ideas.
Try a savings challenge like the 52 week savings challenge but instead of moving the money to savings, put it to debt each week. I have a free printable here!
Any little extra you can put towards your debt will make a big difference. When I was paying off my debt I would make extra payments all the time, even if it was only for $5, they all add up!

Wait until the END of the month to pay extra.
This may seem like I'm contradicting myself with the previous tip, but in the beginning, I really recommend waiting until the END of the month to pay extra towards your debt.
Throughout the month make your minimum payments as usual but don't pay any extra.
This is especially important if you are worried that you may be in the red that month or have had a history of living off credit cards and have been in the red at the end of the month recently.
After you have gotten used to being on a budget then you can get a feel for how much extra you will have and make an extra payment throughout the month.
I talked about this in my debt snowball vs debt avalanche method but I want to touch on it here as well; don't put an extra $5 to ALL of your debts thinking that you are making progress.
Instead, focus on ONE debt at a time. Get laser focused with that one debt until it's paid off and then move onto the next.
Ways I save money:
Here at Freedom In A Budget, I am all about saving money! Here are some of the EASY ways that I save money:
• Billshark negotiates lower prices on your monthly bills to save you time, money and hassle.
• Fetch Rewards is a free grocery savings app that rewards you just for snapping pictures of your receipts. That's it. Really. Free gift cards on groceries on thousands of products every day, no matter where you get your groceries.
Just scan your receipts and get gift cards from retailers like Amazon, Target, Ulta, Applebees. Use code QHKBH to earn 2,000 points ($2)!
• Credit Sesame offers Credit Score and Monitoring, Savings Recommendations and Identity Theft Protection. ALL FOR FREE.
• CIT Bank offers high interest savings accounts and CDs to provide a safe, secure way to earn money grow your savings.
• Gabi is a full-service, online advisor who compares all your insurance options to find you the right policy, all in under two minutes.
• M1 Finance is an easy to use brokerage platform that allows you to invest in Fractional Shares and auto reinvest!
• Webull Get 2 Free Stocks on WeBull when you deposit $100 (Valued up to $1400).
---
Some of the links in this article are "affiliate links", a link with a special tracking code. This means if you click on an affiliate link and purchase the item, we will receive an affiliate commission. The price of the item is the same whether it is an affiliate link or not. Regardless, we only recommend products or services we believe will add value to our readers. By using the affiliate links, you are helping support our Website, and we genuinely appreciate your support.
---