8 Tips For Budgeting with an Irregular Income
Do you work on commission or have an irregular income where you make a different amount each month? If you have an irregular income, that means you can't budget right? Nope! 
Today, I'm walking you through step by step how to create a successful budget with an irregular income.
Irregular Income Budget Template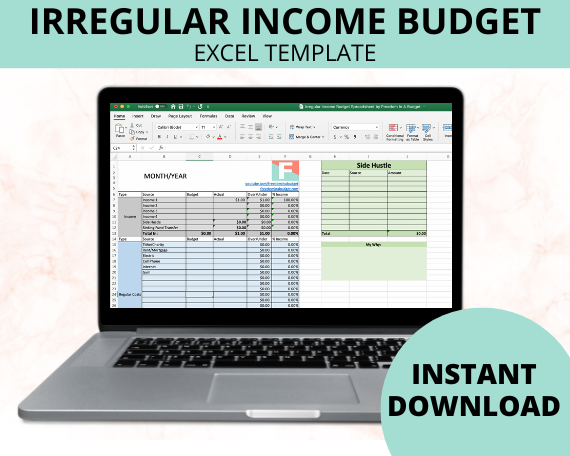 When creating a budget it's important to know how much you are spending in each category. If you aren't already budgeting you probably have no clue how much you are spending in groceries, gas, and personal spending money. 
This is where a spending analysis comes in. 
To do a spending analysis, grab this easy-to-use template, and open up your bank accounts and credit card apps. 
Go through the last 3 or 6 months and put each purchase into a category.
The spending analysis template will do the math for you and tell you on average how much you are spending in each category. 
Take these averages and plug them into your irregular income budget. 
>> For more information, watch How To Do A Spending Analysis.
>> Get your own Spending Analysis Template here.
Figure out the lowest amount that you would be bringing in each month. 
For example, if you have a commission-based job and have a base salary of $30,000 and then make a commission on top of that you would calculate your income on the $30,000. 
Another option is to look at your paychecks for the last 6 months and create the budget based on the lowest paychecks.
Next, fill out the irregular budget template and create a "bare-bones budget".
A bare-bones budget is a budget with just the necessities. This is the budget you would go to if you lost your job and went into crisis mode. 
Figure out just the necessities to live, such as your mortgage/rent, utilities, minimum payments on debt, basic groceries, gas for your car, etc. 
This does not include eating out, personal spending, subscription boxes, or non-essential sinking funds (ones that are for annual payments are fine).
Also check out these articles:
One of the best ways to achieve financial freedom is to take up a side hustle in addition to
your main job. There are endless ways to make extra money, but here are four jobs to
consider to get you started.
Read More »
It can be easy for the fast-paced pressures of daily life to cause stress. Having to manage
work and family life all while taking care of your home can consume a lot of time and money.
As is the nature of life, unexpected expenses are bound to crop up from time to time, and
they can quickly become stressful if you're not financially prepared. Fortunately, establishing
a realistic budget can help to alleviate some of that stress. Keep reading to find out how.
Read More »
In this YouTube income report, you will see a detailed breakdown of how the channel made $8,423.62 in the month of August 20203, through Adsense, digital products, website ad revenue, course sales, memberships, freelance social media, and sponsorships.
Read More »
Extras for high-income months
If you have a commission-based job or irregular income, you will have high months and low months. 
In the irregular income budget template, there is a section for these items. 
When you have a month with a higher income, what are you going to put that money towards? 
Extra debt payments

Investments

Savings

Date night 
It's important to have these expenses pre-planned because when the big commission check comes it's easy to go "LET'S CELEBRATE" and blow the whole check on frivolous items. 
You can include fund things as well, such as "date night" but don't let the entire category be fun things, it's important to work towards your financial goals.
Track your expenses all month long
One of the biggest tips that I have with budgeting is to update your budget throughout the month. 
I recommend adding in all of your new expenses every 3-4 days, at a minimum once a week. 
Tracking your expenses throughout the month does three important things. 
First, it only takes 5-10 minutes to stay on top of your budget. If you wait until the end of the month to track all of your expenses, it is going to take a long time and it will become a task that you dread. 
Second, if you track your expenses throughout the month, you can quickly catch if you are going over budget in a category. 
For example, if your grocery budget is $500 for the month, but after the second week, you see that you have already spent $400. Then you can reign in your spending, do a pantry challenge, and cut back. If you waited until the end of the month to track your expenses, it is too late and you overspent. 
Third, it shows you what bills you have paid and what you haven't paid yet. 
If you are looking at your budget and notice that your electric bill is still blank in the spreadsheet, but it should've already hit your bank account, then you can go and make sure the card on file isn't expired and avoid a careless late fee.
If you budgeted for $3,000 and your ends up being $4,000, then it's an extra $1,000 to work with and that is when you can use the section in the budget for "Extras for high-Income months"
Extra $300 to the current debt you are working on 

Extra $200 to your sinking funds

Extra $400 to your investments 

Extra $50 to eating out 

Extra $50 to fund the hills and valley fund
When you have an irregular income or commission-based income, you have high months and you have low months of income. 
Create a special fund called a "Hills & Valley Fund" for when you have those high and low months. 
For example, if you are a server in South Florida and when it's "in season" and all of the snow birds are here you income will be a lot higher, that is when you are on the "hill". 
Use this time to add more to your Hills & Valley Fund. 
In the summer months, when income is lower and the snow birds have gone back to New York, it will be a "valley" and you can pull from this fund. 
The hills and valley fund is in addition to your emergency fund. 
I recommend keeping your emergency fund, sinking funds, and hills and valley fund in a high-yield savings account. 
Create next month's budget before the month is over
Before the month is over, create next month's budget. 
It will take you under 5 minutes to copy over and create next month's budget. That way when the new month comes, your budget is ready to go. 
>> Here is a video walkthrough on how to copy over your budget for the next month.
---
  Some of the links in this article are "affiliate links", a link with a special tracking code. This means if you click on an affiliate link and purchase the item, we will receive an affiliate commission. The price of the item is the same whether it is an affiliate link or not. Regardless, we only recommend products or services we believe will add value to our readers. By using the affiliate links, you are helping support our Website, and we genuinely appreciate your support.
---