8 Ways To Improve Your Finances In 2020
The new year and new decade – is a chance for us to refresh our financial lives. Whether 2019 was a good or bad year for you, now is the time to start this year off on the right foot. Here are 8 ways you can improve your finances in 2020.
Reflect On The Previous Year
The best way to know where you're going is to examine where you've been. Take a step back and reflect on last year:
What were the wins?
What were the fails?
What can you do differently?
Take those wins and build off of them so you can continue that success this year. Learn from your mistakes and grow from them.
Write out what you did well and what you could've done better. From that list, create your 2020 goals.
Check out this video where I share how to set and achieve your goals.
Create A Budget
When you think about it, budgets give you FREEDOM.
When you have a written budget, you are physically proclaiming what you want to buy or spend that month and coming up with a game plan to make it happen.
Sometimes that means cutting back in one area so that you can afford something that is more of a priority to you.
As long as your budget balances and equals zero at the end of the month – you are good to go.
Check out my Budget Templates that have all of the formulas preset for you. All you have to do is enter in your own numbers and ta-da your budget is ready!
If you need examples on what to put in your budget or what it should look like, I have an entire series on How To Budget For $______ Monthly Income dedicated to just that.
Check Your Credit Score
Check your credit score once a quarter.
As you pay off debt and work on improving your credit score, it's fun to see the number go up.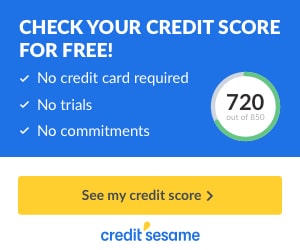 It's also important to see if there are any errors on your report.
If there are, a free credit check from Credit Sesame will make you aware so that you can correct these mistakes as soon as possible.
Increase 401(k) By 1%
Increasing your 401(k) each year makes a big difference!
At my job we receive a 3% inflation raise every January. I have my 401(k) set to go up 1% every January when that raise hits. This way, I don't notice a difference in my paycheck because it is also going up each year by that other 2%.
Setting up a 401(k) can be confusing:
What to put for your target date?
Where do put your funds?
What fees can I expect?
This FREE analyzer through Blooom will answer all of these questions.
I analyzed my personal 401(k) in this video.
Open A High Yield Savings Account
The world of savings accounts has changed in the past 10 years. Online savings accounts have taken over and are now paying the highest amount of interest.
CIT Bank is currently paying 1.75% interest and has ZERO FEES.
For reference, my previous savings account through Bank of America only gave 0.03% with a fee of $8 per month if I didn't have a minimum balance of $500.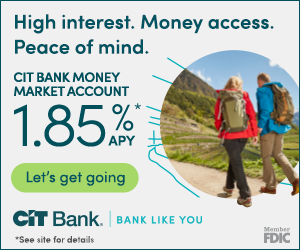 Make the switch to an online savings and checking account through CIT Bank.
Plan A Spending Freeze
No spend months are VERY popular this time of year. I've done my fair share of no spend months. However, I feel that I end up spending more before or after the freeze because I was limiting myself so much during the month.
It was almost like binge eating after a restricted diet.
Instead, I recommend doing spending freezes in certain categories. Every month cut one specific category and don't spend in that category for the entire month. For example:
January: Eating out
February: Clothes
March: Entertainment
April: Subscriptions
Take the money that you saved and have remaining at the end of that month and put it towards whatever money goal you are currently working on.
Whether it's paying off debt or towards your savings.
Complete A Savings Challenge
Sometimes we need a little competition – even if it's with ourselves – to have the motivation to save money. Savings challenges are a great way to make a game out of it.
Here are 5 Money Challenges for 2020!
Start A Side Hustle
Having a side hustle is a great way to pay off debt fast, especially if your budget is tight with all of your money going to bills.
Having a side hustle is going to help bring in extra income each month. Some of my favorite side hustles are mystery shopping, freelance writing and babysitting.
I have a whole video playlist with side hustle ideas to get those ideas rolling.
When you are trying to think of a side hustle that would work for you, think of things that you are already doing or skills that you already have.
Are you currently picking up your children from school? Reach out to some other moms and offer to pick their kids up from school as well.
I have so many coworkers that are almost running to their cars at the end of the day to avoid being charged per minute and stressing about traffic.
Are you meal prepping your lunches? There was a time where I would make a few extra servings for my coworkers as a side hustle.
Here is a video I did breaking down the process.
There are many ways to make extra money on the side to help you hit your financial goals faster.
Being intentional with our financial goals at the very start of the new year helps set ourselves up for success.
Ways I save money:
Here at Freedom In A Budget, I am all about saving money! Here are some of the EASY ways that I save money:
• Billshark negotiates lower prices on your monthly bills to save you time, money and hassle.
• Fetch Rewards is a free grocery savings app that rewards you just for snapping pictures of your receipts. That's it. Really. Free gift cards on groceries on thousands of products every day, no matter where you get your groceries. 
Just scan your receipts and get gift cards from retailers like Amazon, Target, Ulta, Applebees. Use code QHKBH to earn 2,000 points ($2)!
• Credit Sesame offers Credit Score and Monitoring, Savings Recommendations and Identity Theft Protection. ALL FOR FREE.
• CIT Bank offers high interest savings accounts and CDs to provide a safe, secure way to GROW your savings.
• Gabi is a full-service, online advisor who compares all your insurance options to find you the right policy, all in under two minutes.
• M1 Finance is an easy to use brokerage platform that allows you to invest in Fractional Shares and auto reinvest!
• Webull Get 2 Free Stocks on WeBull when you deposit $100 (Valued up to $1400).
---
Some of the links in this article are "affiliate links", a link with a special tracking code. This means if you click on an affiliate link and purchase the item, we will receive an affiliate commission. The price of the item is the same whether it is an affiliate link or not. Regardless, we only recommend products or services we believe will add value to our readers. By using the affiliate links, you are helping support our Website, and we genuinely appreciate your support.
---